Welcome to Beechtree Estates
Whether your dream home is one designed for a growing family or the carefully planned retirement home you've worked toward for decades, location is the first and foremost priority in accomplishing your goals. Beech Tree Estates, located in historic Chiltonville, is the perfect location to see your dreams emerge. Minutes from downtown Plymouth, area beaches and recreation as well as the expressway, Beech Tree Estates sits on over 40 acres of rolling wooded hills and sundrenched fields marking a peaceful enclave few can imagine so close to downtown. This pristine oasis will be preserved for all generations with nearly half the total land area being deeded open space maintaining the natural beauty in perpetuity.
​​​​​​​
Beech Tree Estates is a snapshot in time of how the greater Plymouth community grew during the 18th and 19th century. Turning off historic Sandwich Street at the historic Bramhall corner store, you enter a community thoughtfully designed to capture the old world character of greater Plymouth and the charm of a secluded village. Gas-style street lamps, seating areas adorned with cobblestone pavers and wrought iron benches, architecturally designed landscaping, mindful landplaning and breathtaking architecture all combine to take you back in time.
​​​​​​​

Set back nearly four hundred feet from the entrance, you pass hickory split rail fencing, ornamental grasses and flowering trees long before you ever see the first home. As you round the corner the village area of Beech tree Estates offers its first glimpses. Greek revival homes line the street. Classic lines and architectural details including columns, detailed trim and covered porches mark a collection of residences designed in harmony, yet no two are alike. As you move deeper into the community, past the village setting and through the pasture stonewalls, Beech Tree estates takes you into a more rural setting where the Greek Revival details gives way to farmhouse features such as board and baton siding, cupolas and metal roofs. As with the village setting, while the farmhouses all seem as they were planned to exist together, none are the same. Each home taking on the new owners personal touches, wants and needs making this community truly special and a place where you and your family can live, work and play for generations.
​​​​​​​

Custom Residences from $749,000.
About the Developer
MegryCo, Inc.
MEGRYCO, Inc., the owner and developer of Beech Tree Estates, has been serving the real estate needs of the Southern New England community for nearly three decades. We are a multi-generation family business that prides itself on bettering the communities we reside in and building long-lasting relationships with the clients we serve. To that end, MEGRYCO, Inc. has roots in many local towns and cities with complexes ranging from single- and multi-family residential structures to over 50,000 square foot multi-tenant commercial facilities. Recent residential projects include the groundbreaking redevelopment of the former Armory in downtown Plymouth, Residences @ the Armory, and the historic redevelopment of The Registry also in downtown Plymouth.
​​​​​​​

Our highly skilled staff and contractors, years of real estate development experience and carefully handpicking choice properties all combine to create a full-service design, construction, management operation built to fill the current and future needs of our existing and potential clients.
​​​​​​​

Principles

Rick Vayo – Rick has over three decades of experience in residential and commercial real estate development and construction. During his extensive career, Rick has developed for the sale, lease and build-to-suit of over 500,000 square feet of commercial and retail space. In addition, his residential development and construction resume includes the construction, renovation and management of several hundred units and single-family dwellings.
​​​​​​​​​​​​​​
Rick has focused his real estate energies on the South Shore and has a comprehensive knowledge of these communities. Working with nearly all local cities and towns, Rick has developed keen working relations with area boards, town/cities planners and officials. With a passion for the re-development of historic/dilapidated structures, Rick is highly focused on helping to revitalize communities and takes an active role with local commerce and charitable groups to insure the total success of not simply a single project, but the overall community.
​​​​​​​

Megan Vayo – Megan brings a fresh and insightful perspective to the new construction, rehabilitation and property management divisions. Having grown up in the family business, Megan obtained a business management/entrepreneurial studies degree along with several years of experience working on career placement with architects, engineers, designers and property managers throughout New England. This experience coupled with a sharp sense of design and dedication to providing well-engineered, eco-friendly housing adds a new dimension the team. Megan acts in a hands-on capacity overseeing design and quality aspects of construction and serves as the liaison to the sales team making herself available to all buyers to explain and detail the project's overall vision, answer questions and help finalize selections.


Management

Ryan Vayo, Project Operations Manager – Ryan is the overall project lead hand chosen to see Beech Tree Estates to its successful completion. His experience in the construction industry includes management and hands-on skills in site work, framing and mechanical systems. Ryan manages the day-to-day details of the construction process including subcontractor bidding and coordination, scheduling, daily project reporting and budgets. Ryan is the main liaison between client services and onsite construction as well as overseeing the overall scope of the Beech Tree Estates infrastructure and community properties.


Amanda Morey, Client Services Manager – Amanda is the onsite project lead selected to coordinate with all Beech Tree Estates clients to ensure their selections and overall needs are delivered. Her experience in the construction, customer service and interior design fields prove invaluable in guiding clients through the design process, coordinating selections and implementing the finished product. Amanda manages the day-to-day details of the finish process including subcontractor bidding and coordination, scheduling, daily project reporting and all client relations. Amanda is the link between the vision and final product.


Architecture and Design

Paulette O'Connell, LEED AP
OCO Architecture and Design
​​​​​​​

Paulette O'Connell is the principal and owner of OCO architecture and design. She started the firm in 2009 to offer personalized design solutions that fit within the fabric of the community. The practice focuses on residential additions and renovations to new single and multi-family designs, spanning from Boston to the Cape. OCO is a full service firm working from conceptualization through construction administration. Throughout Paulette's career, spanning two decades, she has had the opportunity to design single-family homes, multi-family residences, schools, clubs and historic renovations. This diverse background brings a wealth of experience and a distinctive approach to the firm's work.
​​​​​​​

Working with OCO is working with a professional, creative and responsive team. Their approach is a collaborative one, to listen to and work with clients in order to provide a design that meets their needs. As principal, Paulette brings a keen design sense, attention to detail and passion to every project.
Paulette is a graduate of Virginia Polytechnic Institute and State University and studied abroad in Riva San Vitale, Switzerland. Upon graduation she embarked on a nearly 15 tenure at Bargmann Hendrie + Archetype, Inc in Boston, MA. She became a Senior Associate at the firm and led the Recreation and Education design studio. As a project manager she led the design and construction of both public and private projects ranging in size from 2,000 up to 100,000 sf. She is LEED certified and was the LEEP AP on several projects going for certification by the USGBC.
​​​​​​​

In addition to Paulette's architectural career, she has made a point to serve the community. Currently, Paulette is a Girl Scout troop leader and docent art volunteer for the Scituate Public Schools. She was a graduate thesis advisor at Suffolk University's New England School of Art and Design. In 2008, she led a team for the Citizen's Schools' eighth grade Architectural Competition. She has also had the privilege of lecturing at the University of New Hampshire, Boston Architectural College and the Boys & Girls Club Annual Keystone Conference.
​​​​​​​

Engineer/Land Planner

Mark Flaherty, P.E.
Civil Engineer and Land Planner
Flaherty & Stefani, Inc.


For more than 40 years, Mark Flaherty has offered his civil engineering and land planning services in thousands of residential and commercial projects throughout Southeastern Massachusetts and beyond. His engineering experiences began after graduating from Clarkson University by working for Stone & Webster in Boston. Later in 1978 after obtaining his Master's Degree from Duke he worked for another national engineering firm, Gannett Fleming, in Pennsylvania and then at their Boston office on Environmental and Transportation engineering projects. In 1985 at Norwood Engineering he opened their Cape Cod office and managed civil engineering projects for another three years before starting his own firm in Plymouth Massachusetts in 1988.
​​​​​​​

Flaherty & Stefani, Inc. was established by Mr. Flaherty with the chief aim of providing a broad range of civil engineering, land surveying and environmental consulting services to a myriad of residential and commercial clients. At the same time, it was vitally important that the firm provide service that not only was knowledgeable, responsive, and dependable, but also courteous and respectful to all clients, no matter the size of their projects. His firm remains determined to conduct the same level of excellent service in a personal, professional and cost-efficient manner. It has been Flaherty & Stefani's good fortune that this approach has resulted in a loyal client base that has expanded greatly through a much-appreciative and highly gratifying list of referrals.
​​​​​​​

Mr. Flaherty has been a professional licensed civil engineer since 1979. He is also a Massachusetts licensed Soil Evaluator. Many towns in Southeastern Massachusetts have hired Mr. Flaherty as peer review consultant. He is a member of American Society of Civil Engineers.
​​​​​​​

Flaherty & Stefani, Inc. since its inception in 1988 has been an active member of the Plymouth community and has been involved in numerous charitable endeavors.
​​​​​​​

Greek Revival/Farmhouse Style
Site Plan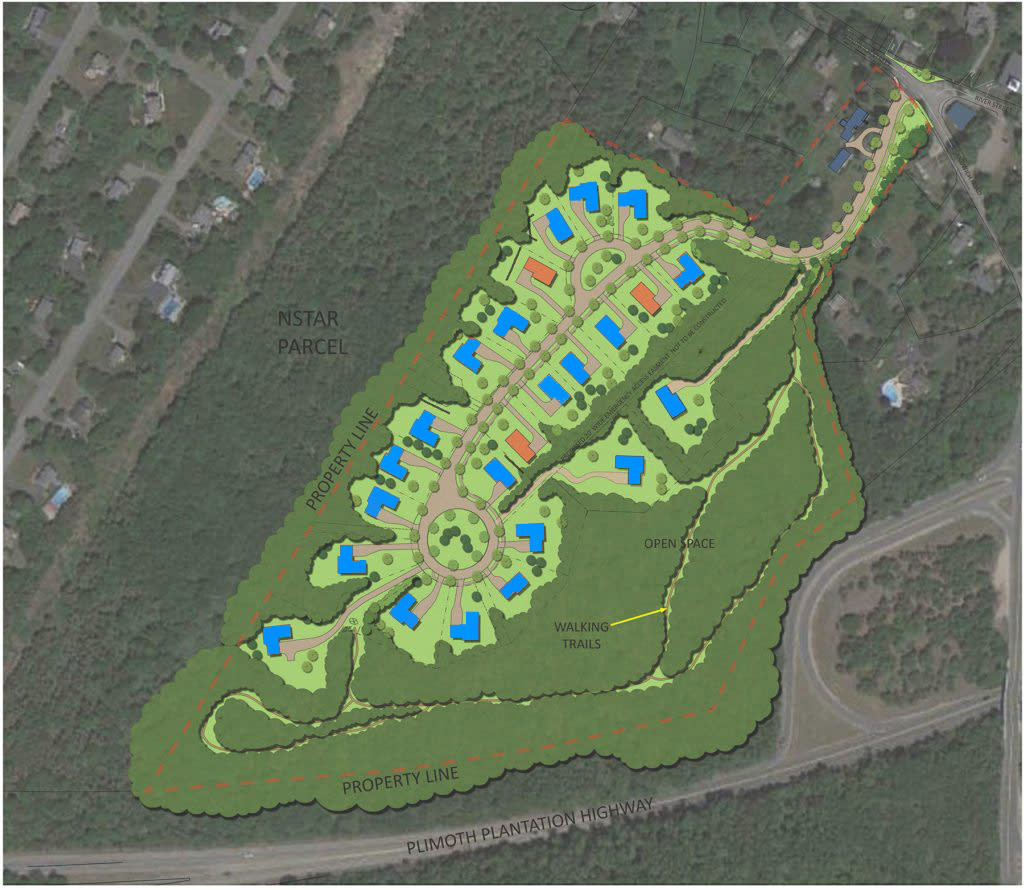 Photos & Floor Plans